By David Colman
Likes:
Urban champ
Nimble
Recasts microcar as premium product
Dislikes:
Still tight dimensions
CVT drone
Wear a helmet
Microcars have always demanded that you make concessions to absurdity. Most of them look like circus clown cars or they make you behave like a circus clown. Generally speaking they're pitifully small and slow. And there's always been something demeaning about them, whether climbing through a clamshell windshield for entry, or cowering next to an adjacent semi. While they might be perfect for collecting microbes or reading microfiche, microcars have historically been impractical. But what if you could design one to behave like a real car? Then you'd have a Scion iQ.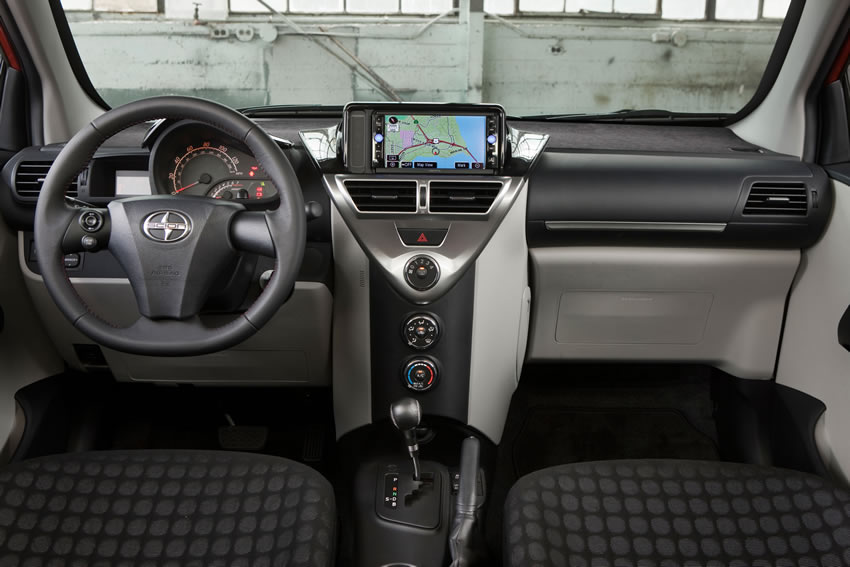 Not until you climb into the cockpit of the iQ are you convinced this unlikely looking prospect is any different. But the wide door opening, low entry threshold and anatomic seat allay any doubts you may have about practicality or comfort.
Once underway, your initial positive reaction persists as the iQ quickly and quietly gains speed. At 53 inches, cockpit width is sufficient to make the iQ feel like a compact sedan inside. Because its 10 foot length is 18 inches longer than a Smart car, you've also got enough useful storage space behind you to make the iQ a realistic weekend getaway car for a couple. Of course, use of that 16.7 cubic feet of space requires you to fold both rear seats flat. If you don't, interior storage shrinks to just 3.5 cubic feet.
While Scion bills the iQ as a 3+1, you'll never get more than 3 adults in this car at the same time. The front passenger seat is actually positioned ahead of the driver's seat to allow a rear seat passenger just enough legroom to sneak in back. The "+1" addenda would have to be a pet, a baby or an elf.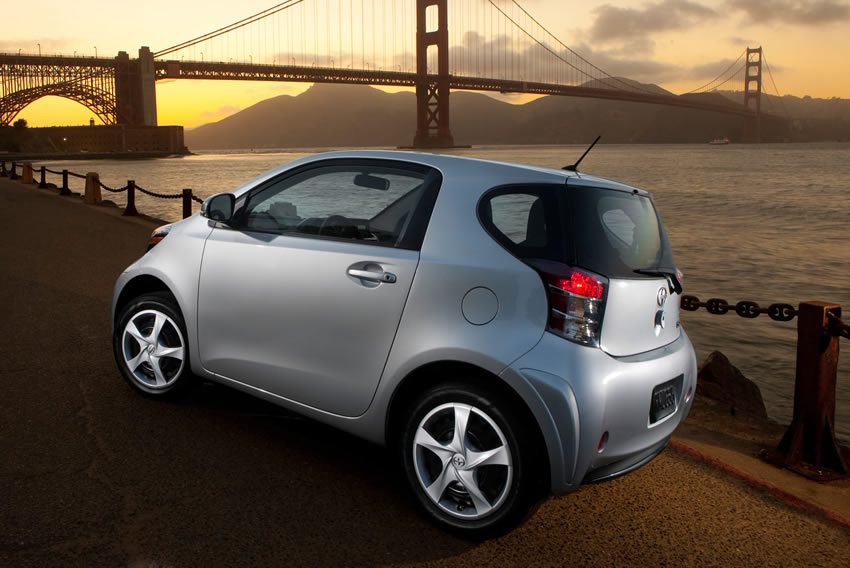 For a car with just 94 hp on tap, the iQ is remarkably frisky. In straight line acceleration, the Scion feels quicker than a Fiat 500 or a Chevy Volt, especially in the 0-30mph range so common to city driving. The reason for the iQ's charging launch is its exceptionally low curb weight of 2,127 pounds. Couple that flyweight physique to the instant torque multiplication provided by the iQ's Continuously Variable Transmission, and you've got the perfect formula for brisk throttle response. Because of packaging constraints, a manual gearbox is not offered on this Scion, but the manumatic operation of the CVT does allow you some leeway in selecting engine speed ranges. Top speed of the iQ is 100mph.
With a car weighing just over a ton, the iQ is a flyweight boxing in a ring full of heavyweights. Consequently, Scion has stuffed 11 airbags into this diminutive module to allay any fears about crash survivability. In fact, even the rear decklid is provided with the world's first airbag in this location.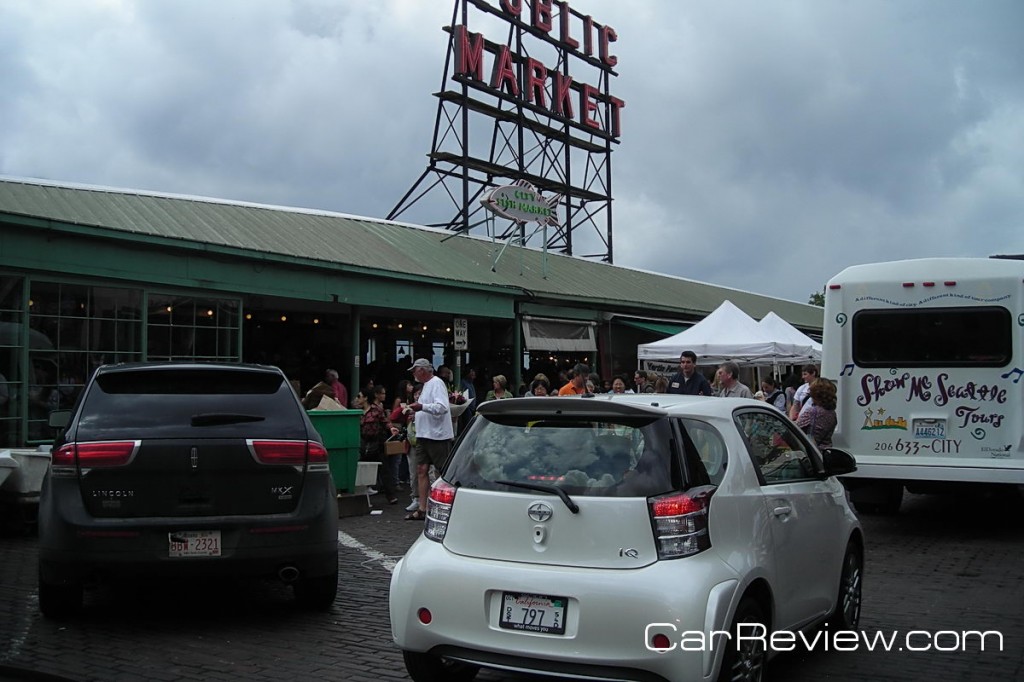 An often overlooked aspect of crash worthiness is a vehicle's ability to avoid one in the first place. Here the iQ shines, thanks to its go-kart sharp handling. The most revealing statistic here is the iQ's stunning 12.7 foot turning circle. While most compact sedans do well to make a U-Turn inside a normal two-lane street, the iQ could make a pair of them in the same space.
At one point in my test drive I encountered a small diameter traffic roundabout. The Scion was so eager to whiz around this impediment that I managed to hot lap the same island three times in a row without so much as a single correction to the fat, red stitched leather steering wheel.
The Scion iQ proves that microcars do not have to be slow, demeaning or impractical. The 2012 iQ goes on sale in 7 different colors for $15,995 in California, Washington, Oregon and Arizona on October 1, 2011. Sales in the rest of the USA will follow later.
source :reviews.carreview.com