Pros:
Legendary Range Rover all-terrain capability
Same adaptive damping system as a Ferrari provides excellent ride quality
Buttery-soft leather seats for all-day comfort
Extensive list of customizable options
Cons:
Oversized outside view mirrors
Small number available worldwide for its first year of production
The 2012 Range Rover Evoque is a compact, luxury crossover that offers premium levels of craftsmanship, luxury, performance and renowned Land Rover all-terrain capability. Available as a coupe or 5-door model, the Evoque will be in high demand as only 2200 units are being built and sold worldwide in its first year of production which begins this summer.
CarReview was invited to test drive the new Evoque on the city streets of San Francisco. Granted, the potholes and broken asphalt of a concrete jungle are not considered a true test of the Evoque's off-road capabilities, but it was a good proving ground to show off how well the Evoque can maintain a comfortable ride on roads that could qualify on the list of top ten worst maintained roads in the U.S.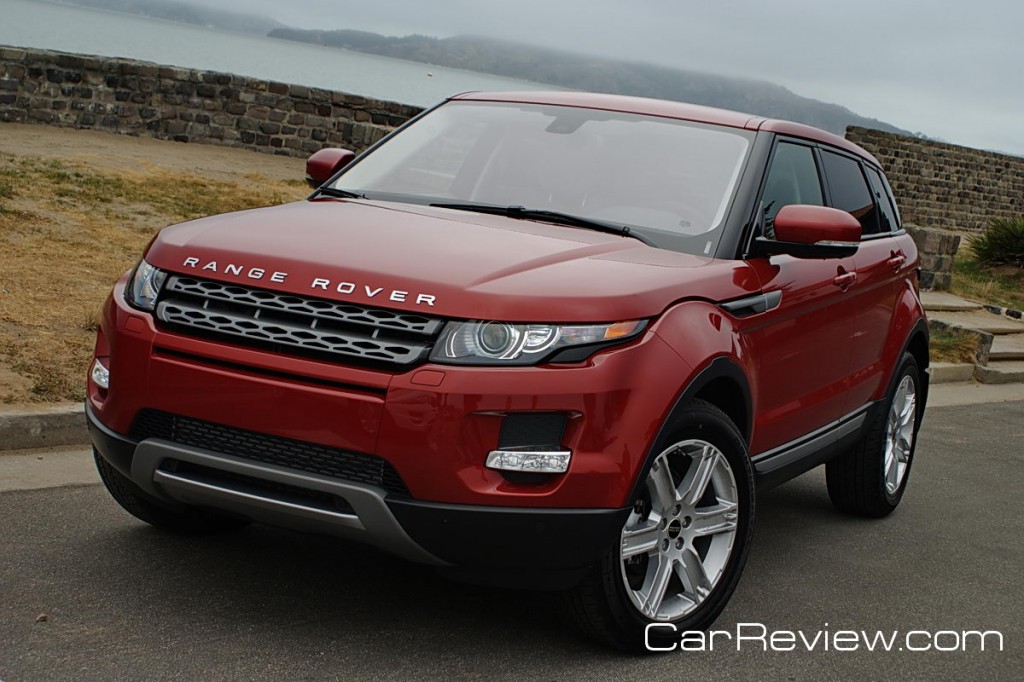 Fortunately, our cars were equipped with the optional MagneRide™ adaptive damping system, which is almost the same hardware used in Ferraris. Essentially, the damping system quickly reacts to conditions so that big bumps and frenetic cornering are handled with superior finesse, but also loosens to allow the ride to stay cloud-soft when conditions are not so demanding. When in action, harsh ridges and potholes are smothered with luxury-car quietness.
Scooting around the city, we found outward visibility is very good for the driver. The opera windows on the C-pillar aid the driver when changing lanes or maneuvering in tight spots. The only thing hindering visibility is the overly large outside mirrors which can block your view at the 11 o'clock position.
Power comes from a 2.0-liter direct-injection turbocharged 4-cylinder engine which pumps out a prodigious 240 horsepower and can giddy-up from zero to 60 in 7.1 seconds. Not bad for a crossover that has all-terrain capability and can wade through water up to 19 inches without suffocating.
Combined city and highway fuel economy for the turbocharged gas engine is 27 mpg overall. EPA estimates have not been released, yet. Premium gas (91 octane) is recommended to keep the peppy 4-cylinder engine happy.
A Range Rover wouldn't be a Range Rover without first-class accommodations for its passengers. The front dash design is Jaguar-esqe, but the leather seats are buttery soft and a joy to settle into for any journey short or long. Customers are offered three design themes: the cool and contemporary 'Pure', the luxurious 'Prestige', and the bold and sporting 'Dynamic'. Customers can further tailor these themes with different designer interiors, option packs, standalone and accessory items, or add in the concert hall quality 825 Watt, 17-speaker Meridian surround sound system.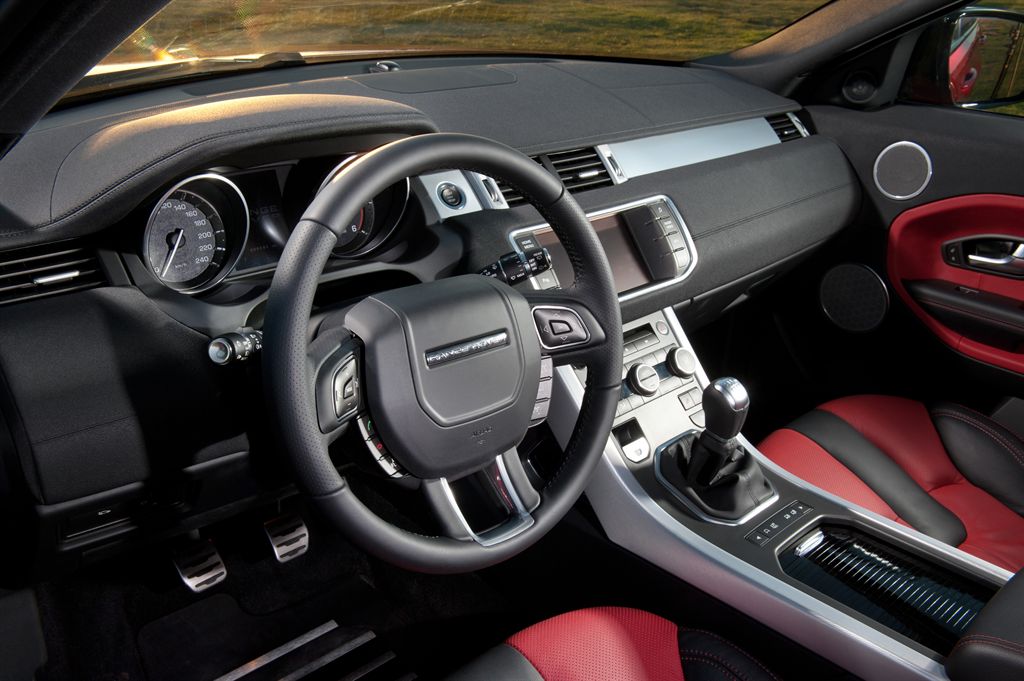 Back seat passengers get enough legroom that comes close to flying in business-class on flight between Los Angeles and Chicago. Headroom is non-confining for back seat passengers up to 6 feet tall. Cabin ambient lighting is provided by a full-sized fixed glass panoramic roof that stretches almost the full length of the Evoque's roof.
The rear cargo area has adjustable stowage rails and a strap with an inertia locking reel, which works in a similar fashion to a seat belt, for securing items. Under-floor storage compartment adds extra capacity to a rear cargo area that has a maximum of 20.4 cubic feet for the 5-door model and 19.4 cubic feet for the Coupe model.
Our time spent behind the wheel of the Range Rover Evoque was very short, but it does have a lot going for it. A very comfortable ride, plush interior, all-terrain capability, and a rev-happy engine are especially noteworthy. On the flip-side, the low production numbers place this year's availability in the hands of a select few. And no mention when the U.S. will get the more fuel efficient diesel version
source : reviews.carreview.com